My extended family has been manufacturing in the USA for over 115 years. We manufacture here in the USA at our factory in Thomaston Georgia because of the awesome people behind the fabrics we sleep in.
Our luxuriously soft, bed sheets made of USA organic cotton are the epitome of ethical comfort. Operating our own mill has allowed us to maintain the same materials, social, and environmental impact standards we've had for ten decades. For the past 100 years big businesses like Hilton, Marriott, Radisson and Intercontinental have used our sheets, and now for the first time in our history, we're selling online direct to consumers.
We're committed to making quality bedding with a smaller environmental impact in a place that treats workers well. Sheets that are imported from countries such as China and India are made in factories that do not treat their workers fairly. Americans, who for so long have been buying imported bedding, need to see that there are some very high quality products being made right here in the USA by their friends and neighbors and they need to get to know these wonderful people.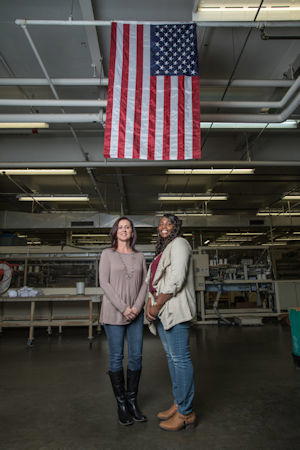 Kayla and Kawanda, are part of the team here at Thomaston Mills that developed our new line of bedding, American Blossom Linens. They have a combined 48 years of experience manufacturing bedding. They both held many jobs at the mill from running automatic sewing machines, packing sheet sets, monitoring inventory, planning production, and supervising teams of people. They are both creative and care tremendously about the people they work with.
Kawanda: "What I like most about being a supervisor is, I try to tell each and every one of my ladies and guys to always strive for better. I try to encourage them that there isn't anything here you can't do if you put your mind to it. Hard work and making sure that the customer gets the product they want and need is one of the most important values of the people at Thomaston."
Kayla: "I'm most proud of the fact that when we need something we get it out there and we get it done. We work together as a team, and support each other at work and in our personal lives. Most of us, especially the ones that have been here together for a long time, we know each other's children's names. People will ask about my grandchildren by name not just, how are the babies."
In 2018 the team at Thomaston put their heads together to develop American Blossom Linens, a line of bed sheets made completely in the USA using 100% USA organic cotton grown in West Texas by family farmers. We brought back a brand that was created by Thomaston in the 1940's, originally called Blossom, because we wanted to capture the old fashioned goodness of that brand.
Kayla: "People are always asking me what to look for when they buy sheets. Look for more cotton, which is natural. You can feel it and tell how good it is."
Our cotton, like all USA cotton, is totally traceable. Organic cotton doesn't allow the use of genetically modified seeds and restricts the use of many chemicals—making it safe for the environment, the farmers and consumers. It helps sustain the land it is grown on through crop rotations, natural ways of controlling pesticides, and is usually rain fed!
American Blossom Linens is made using more substantial, thicker, fabric that is environmentally friendly, pure, chemical free and gets softer as you use it.  Flat sheets are generously sized to fit today's luxury beds and deep pockets plus our "Top or Bottom" labels make putting on fitted sheets and keeping them in place a total dream.
The Thomaston team developing American Blossom wanted to manufacture a product that was soft, substantial, sustainable and made with top quality raw materials.
Kawanda: "A lot of companies and people are getting their sheets from overseas at lower prices and consumers are accepting that even though the sheets they are getting are not good quality. I would rather pay a higher price and get a better product that is going to last me a lifetime instead of getting a product at a cheaper price and I am going to have to get another one next week."
Because we believe so much in our American Made quality we offer free shipping and a 2 Year Risk Free Trial. If you are not completely happy with the product you may return it for a full refund.
We've been around for over 100 years because we've always focused on our customers and quality. A lot of the people working at the factory watched as the textile industry was decimated. Virtually all of the bedding manufacturers have moved production overseas, in fact per the Bureau of Labor Statistics between 1990 and 2016 there were a total of 516,000 jobs lost in the textile industry.
Kawanda: "The closing of the mills caused a lot of people to lose jobs and struggle in their livelihood because that is what they did, they worked in the mill and once it closed it affected a lot of people."
When you invest in American Blossom you are supporting a reinvigoration of the once thriving textile industry and your fellow Americans, one sheet and one person at a time.
Get 15% off your American Blossom Linens purchase with coupon code: BuyDirectUSA15. Plus FREE Shipping!