When it comes to cooking, I love preparing meals that are delicious and for the most part nutritious. However when 360 Cookware sent me their 9 x 13 Bake & Roast Pan, the very first thing I thought about making was a big pan of lasagna.
I have made lasagna in glass and ceramic cookware but never in stainless steel. So I went shopping and bought the ingredients which included lasagna noodles, sauce, ground chuck, pepperoni and a lot of cheese.
COOK TIME
I planned on a cooking time of about an hour at 350 degrees in a gas oven, but after 45 minutes, the cheese on the top was the desired color and the sauce was bubbling up. Normally, I would show a nice cut section of the food on a pretty plate, but I am not a food stylist and couldn't get the shot the way I wanted or that looked passable as professionally done.
The lasagna was cooked all the way through in less time than I expected. This little bonus time meant I got to eat a bit sooner and I didn't have to have my oven on as long.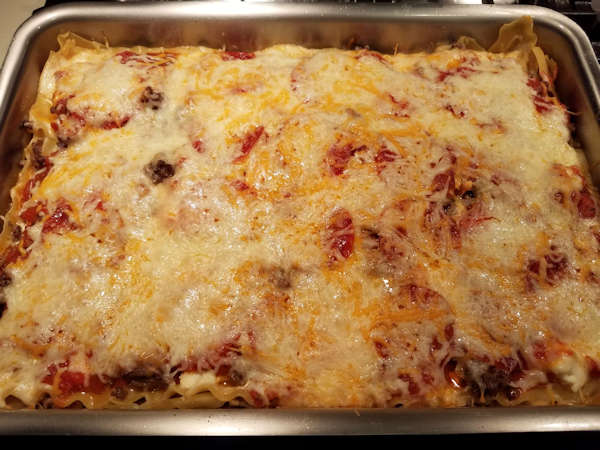 CLEANUP
So, I wanted to test how all that gooey cheese would come off the pan without me having to scrape or let it soak for hours. So on one side of the pan, I removed the servings by cutting them in the pan with a soft spatula and left the food in the other side.
The result is the side where the food was removed and sat for 20 minutes, the cheese stuck to the pan. On the other side where the food remained, it was still warm. The lasagna was easily removed and I wiped that part of the pan clean with no problem.
On the part where the cheese had cooled and stuck to the pan, I put really hot water into the pan and let it soak a couple of minutes, then poured out the water and easily wiped the stuck on food off with a sponge.
The end result, a great meal and a pan that still looks like new. I should mention this cookware and all the cookware by 360 Cookware comes with care and cleaning instructions, so be sure to read and follow them carefully.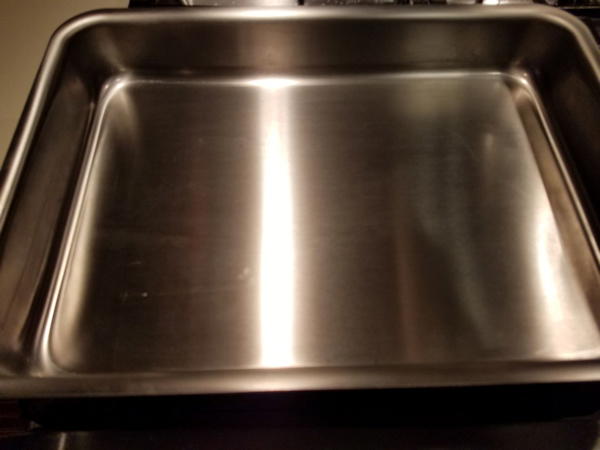 The Bake & Roast Pan comes with handles or without handles. I chose the one without handles and it worked just fine. It's just a matter of personal preference or oven size.
I look forward to cooking other things in this pan, perhaps baking a cake or some other delicious deserts. Send us a tweet @BuyDirectUSA and I may just take you up on your suggestions.
I imagine I will be getting years of use from the Bake & Roast Pan by 360 Cookware and enjoying countless meals. It's durable and made with American stainless steel by hardworking men and women who take the utmost pride in every piece they make.
If you want to cook like a pro, use the same cookware the professionals use and at same time support US manufacturing.
RATING
As for a rating, I am giving the Bake & Roast Pan a 5 out 5 stars.
360 Cookware has always provided us with a custom coupon code that you can apply to any order your place with them, just use code BUYDIRECTUSA and Save 20% now.
As a matter of full disclosure, they did send me this pan at no cost to me and I did not promise them a review or a good rating. They are a current advertiser with us. However, when something this good comes along, I decided I needed to share it with you.