Feel good, do good and get a wonderful night's sleep with American Blossom Linens, the only bed sheets made completely in the USA from 100% USA organic cotton.
You might say we are obsessed with making sheets. Our extended family has been manufacturing in the USA for over 115 years in Thomaston, a wonderful town in middle Georgia, despite the fact that most of our competitors have moved all their production overseas.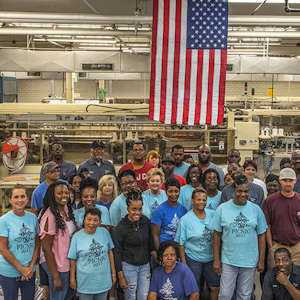 We want to introduce you to the fabulous craftsmen that have been making linens for many years in America the old fashioned way. The quality of your sheets is only as good as the craftsmanship of the people who make them. We're proud and lucky to work with the best in the business. When you invest in American Blossom, you are supporting sustainable agricultural practices, a reinvigoration of the once thriving textile industry, local supply chains and your fellow Americans.
Why Buy American Blossom Linens:
Environmentally friendly, pure, chemical free softness
Timeless design and superb durability
Generously sized to fit today's luxury beds
Deeper pockets plus the "Top or Bottom" labels make putting on fitted sheets and keeping them in place a total dream
Quality traceable USA Organic cotton grown by family farmers
Responsibly crafted by families with decades of textile heritage
Luxury fairly priced – sold direct to you
Our more substantial linens grow softer the longer you use them
Always free shipping + 2 Year Risk Free Trial
Take 15% off with coupon code: BuyDirectUSA15