Back in the 1990's Thomaston Mills the manufacturer of American Blossom Linens established a philosophy that we hold to today, We committed to the following:
To demonstrate the highest ethical standards in all dealings with our customers and our suppliers
To assure that the quality of every product we sell is better than our customer's request
To be fair in our dealings with every employee at all times
To encourage open communications among all of our employees at every level of the organization
To be a good corporate citizen in each community where we operate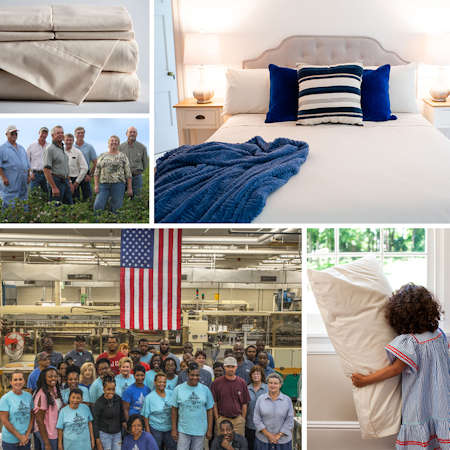 We continue to be committed to making quality bedding with less of an environmental impact in a place that treats workers well. Sheets that are imported from countries such as China and India are made in factories that do not treat their workers fairly.
American Blossom is making sheets the old fashioned way, sheets that are made to last which saves money as you do not have to replace them very often. Our fabric is made from 100% USA organic cotton, thicker and more substantial, environmentally friendly, pure, chemical free and gets softer as you use it.
Flat sheets are generously sized to fit today's luxury beds and deep pockets plus our "Top or Bottom" labels make putting on fitted sheets and keeping them in place a total dream. To top it off you get 4 pillowcases with every Queen and King set and shipping is free.
Americans, who for so long have been buying imported bedding, need to see that there are some very high quality sheets being made right here in the USA by these wonderful craftsmen and women.
We have been making bedding in the USA for over 115 years and its Labor Day so we want to thank our wonderful American team members for their hard work and at the same time thank our community with a special sale. Enjoy 20% off of your entire purchase when you use code BuyDirectLD2019 on our website.