After pulling my calf and hamstring simultaneously a few months ago I was looking for ways to help heal the torn muscles and found that extra protein can help the healing process. I suppose I could have just started eating my weight in steaks or gave myself license to eat like Henry the Eighth with a turkey drumstick in each hand, but more rational options prevailed and I found that supplementing with protein drinks would be better not only for my digestion but a great way to get more protein into my diet without all the extra cooking.
I started out mixing the protein powder in a glass with a spoon and if you have ever tried mixing it this way you know it just doesn't mix well. You end up with clumps in your glass no matter how well or how long you stir it up. Not wanting to have to break out the blender everyday (and clean all the parts) I started looking online for an easy way to mix up my protein powder and found the solution, a shaker bottle.
The only requirement I had was that it had to be Made in the USA not China. A quick Google search led me to a company called Helimix that makes their protein shaker bottles in the USA.
Straight out of the box, the Helimix has a unique octangular shape that acts as a vortex to blend your protein powder, the screw on lid comes in five colors and the and drink spout locks tight to ensure it does not leak when shaken. Plus unlike the imported shaker bottles the Helimix does not have any blending balls or extra parts that would have to be cleaned later.
I added 4 ounces of milk, a scoop of protein powder and another 4 ounces of water using the measurement lines on the side of the bottle, put the lid back on, made sure to press the sweet spot on the drink spout to ensure everything was sealed and started shaking. Check out this cool video created by Helimix that shows their vortex mixing action. After 20 good shakes I poured the contents into a glass to check the consistency of the liquid and to my delight, there were no lumps and the drink was as smooth as can be.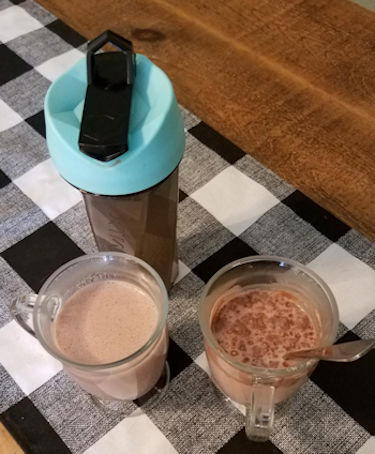 This had me convinced but I tried several more times over the next few days and each time, I got the same results. This shaker does what it says it will and is BPA/ BPS free. It is also dishwasher safe but just as easy to hand wash (which I prefer). It will also fit into your cars cup holder so if you want to wait to have your protein shake after you arrive at work, it's a great way to carry it. It also comes in 5 great colors: black, island paradise, kale, pink yarrow and blue. I have the black and island paradise.
Price wise, the Helimix costs a little more than imported shaker bottles, but for me personally, I will gladly pay more for quality and for peace of mind knowing this product is Made in the USA.
Whether you are drinking protein powders to help boost your muscle mass, heal after an injury or to manage your weight, I highly recommend the Helimix shaker bottle. I give the Helimix shaker 5 out 5 stars.
Order the Helimix Shaker Bottler Here.
Disclaimer: The product was provided to us to review and we were not compensated to review this product.