Cat trees, condos, towers and scratching posts made in the USA. Cat trees are not one size fits all. Some cats need larger, sturdier cat trees and many imports are made for kittens or made with toxic materials. Your cat needs a strong, sturdy, safe and comfortable place to relax. Make sure the cat tree you choose will give your cat the exercise, play and rest they need to be happy.
This cat perch is designed to give your kitty a comfortable place to take his morning, afternoon and early evening naps. Comes fully assembled and is handcrafted in the USA. Dimensions: 20″ W x 20″ D x 32″ H.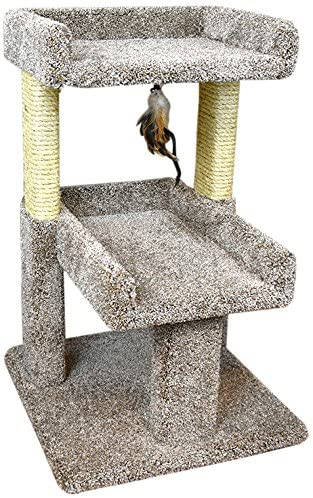 A cat tree will make your kitty feel like the king of the jungle. Features four levels, three huge round beds with extra tall walls on each for added security and a notch on front for easy access, two carpeted scratching posts, and one natural unoiled sisal rope scratching post to keep kitty's nails looking good. Choose from 5 colors.