In the early 80's Flame Engineering manufactured propane torches for roofing professions. Today they have expanded their product mix to include propane torch products for use by homeowners, farmers and other commercial applications, outdoor patio lights and more. Flame Engineering proudly manufactures the Red Dragon® products in Lacrosse, KS. Most torches are certified Made in the USA.
These torches are perfect for the gardener who wants an organic way of getting rid of weeds without the use of harmful herbicides. Its a great way to keep your garden organic.  This is also a great tool to get rid of weeds from your driveway, between paver stones, patio blocks and much more.
In the winter, you can use your torch to melt ice instead of suing corrosive salt which can damage your concrete walkway and driveway. Our propane torch has many great uses for mechanics and more.
Red Dragon® Propane Torches and Equipment can be used for getting rid of weeds, thawing snow, burning brush and more.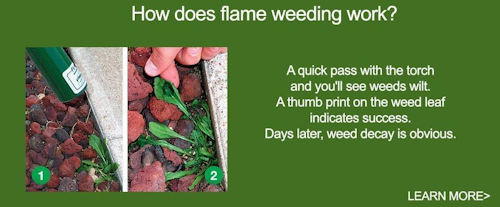 Red Dragon® – The Original Heavy Duty Torch Kits
These powerful vapor torch kits are perfect for farm & ranch, construction, grounds maintenance, road crews, industry and more! Put a Red Dragon® To Work for You! Available up to 500,000 BTU/hr.
Weed Dragon® America's #1 Home & Garden Torch Kits!
The perfect torch kit for home and garden use and even powerful enough for larger gardens and small acreages. Have fun killing weeds naturally! Available up to 100,000 BTU/hr.
Red Dragon® Patio Lights
Our Patio Lights are perfect anytime you want to spend time outdoors. They provide a soft, golden glow that enhances any outdoor setting. No oily mess or fragile mantles, just the soothing, light from an open flame. Available in five decorative head styles. With a durable, yet lightweight, all steel construction, and powder coated for a long lasting, durable finish. The flame adjusting valve allows you to select a wide variety of flame length and widths. Made in the USA.