Albert Einstein said, "I am enough of the artist to draw freely upon my imagination. Imagination is more important than knowledge. Knowledge is limited. Imagination encircles the world." Toys should be designed to foster creativity and imagination in children of all ages. Most mass market toys are made overseas and many are designed to promote the latest blockbuster movie or bring your child's favorite television character to life. But are those mass market toys encouraging children to be creative? One of the benefits in purchasing toys made in the USA is that they are made from wood or plastic and also non-toxic. Imported toys can contain harmful compounds such as lead and cadmium. Our toys and games listed are made in the USA and manufactured in America.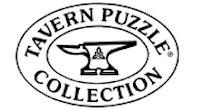 Tavern Puzzles are based on puzzles made by blacksmiths to amuse their friends at county inns and taverns. Today they are constructed by a museum trained, traditional blacksmith in the USA. There are 8 groups of brainteasers from Basic to Complex.

At DutchCrafters they offer a selection of Toys and Games that are made in the USA. Choose from games, wood toys and trains, toy boxes, kids furniture, safety certified cribs, and more. Perfect for babies and kids.
Shop Norton's U.S.A. for toys for kids, toddlers and babies. All of our toys are made in the USA. Choose from building blocks, nostalgic toys, puzzles, books, games and more.