Aslan Mattress has made buying a mattress online easy. We are the only company that offers a full 365 night trial and an infinite warranty on a 100% made in the USA (cover & core) product that has both Phase Change & GEL technology infused right into the memory foam. We ship fast and there are no shipping charges at an unbeatable price, so you can sleep fiercely without breaking the bank. Shop Aslan Mattress here.
About Our Mattress Design
Our mattresses are made from Gel Memory Foam. The 3 layers of ground breaking specialty foam provide cooling comfort, unbeatable press relief, and spine aligning support. We use only high-quality CertiPUR-US® certified material to ensure it is made responsibly to the highest standards and is checked against having harmful chemicals.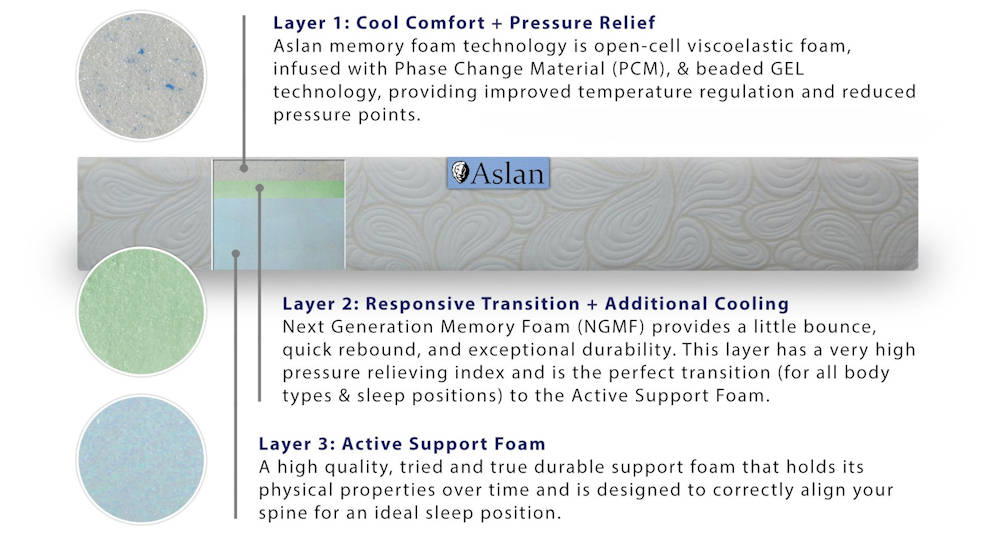 7 Great Reasons to Buy an Aslan Mattress
100% Made in the USA.
365 Night Trial, Free Returns, Infinite Warranty.
Cool Comfort.
Better Rest.
Pain Relief.
Eco-Friendly.