Recently I had the opportunity to review great American Made product, the Weed Dragon® VT2-23C Vapor Torch Kit by Flame Engineering.
While it may look cool, this tool is not a toy and I read the instructions several times to make sure I was using it correctly. I followed all the safety measurements when hooking it up to the propane cylinder. I also kept an ABC rated fire extinguisher and hose on standby. The one thing that was not included with the Weed Dragon® Torch Kit is the propane canister. Since I don't have a gas BBQ I purchased one at my local home improvement store.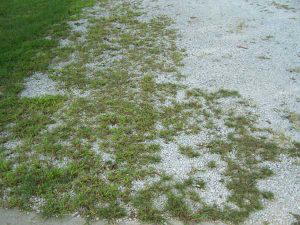 As you can see in the before image (left) my driveway is partially gravel and has weeds and grass growing on it. I did not want to use toxic chemicals to kill them and tried natural alternatives such as: vinegar and salt. It worked temporarily, but the weeds seemed to sprout up in other places stronger and thicker. Weed eating was out of the question because of the flying gravel. The propane torch seemed like a great option to try and get rid of the weeds quickly.
I secured the propane tank to a small dolly, lit the torch with the igniter provided and then began my assault on the weeds. I immediately felt the heat from the 100,000 BTU torch and could see the weeds wilting from the 2,000 degree heat as I passed over them with the flame. The long hose made it so I could just about push the dolly to the middle of the driveway as I walked up and down the sides to torch the weeds.
The process was quick and after a few hours I could see the weeds starting to turn brown. What I saw the next day was the most impressive part. Nearly all the weeds were brown and dead. I had a few tough ones that needed another pass, but that was expected as I was a little cautious using the Weed Dragon®. This torch got the job done (see image on the right).
The Weed Dragon® Deluxe Vapor Torch Kit is made in the USA and costs $82.00. It is an excellent tool if you do organic gardening, have a gravel driveway, like mine, need it for a fence line and more. Additional accessories are available; such as longer hoses, the dolly made specifically for the propane cylinders and more.
For value, quality and how well the product worked I am rating the Weed Dragon® Model VT2-23C Vapor Torch Kit a Five out of Five stars.
Order Your Weed Dragon Propane Torch Here