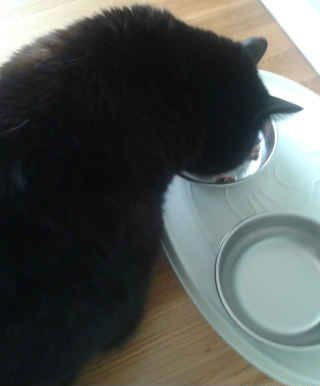 When a cat adopted us over the summer I purchased plastic food and water dishes at the big box store that were made in the USA. After a few weeks of use I noticed that my cats chin was red irritated and patches of his fur was missing where he had scratched himself to try and get some relief. Much to my surprise I learned that acne in cats is common and one of the causes is plastic food and water bowls. It seemed that our cat, Ninja was allergic to the plastic among about a dozen other things.
After researching solutions online I learned that the best food bowls for cats was either stainless steel, glass or ceramic. I decided that the stainless would be the safest option for Ninja. Unfortunately the stainless steel bowls carried by PetCo, Petsmart, etc were all Made overseas. The metal seemed cheap and flimsy and I was concerned about toxins in the metal leaching into his food and water.
After searching online I came across the only company that makes stainless steel pet dishes in the USA: Basis Pet.
Excited I purchased a twin pack of the bowls online at BasisPet.com and received my order within the week without expedited shipping. I opened the box and took a look at them. The difference between these bowls and the ones at local retailers was remarkable. Unlike the imported bowls these were fairly heavy, the stainless steel has a brushed metal finish to it and they were not too deep for Ninja, but deep enough to keep the food from getting all over the floor.
After a few weeks of changing out the plastic bowls to the stainless steel, Ninja's chin was acne free and all the missing fur grew back.
I feed him twice a day and his dishes are washed after each use. I hand wash the bowls but they are dishwasher safe too. It has now been several months and the dishes look as good as the did when I first received them.
I am a firm believer that you get what you pay for, and although the dishes did cost more than what we wanted to spend it was well worth it. The stainless steel used to make the dishes is the same grade used to make dishes for humans, so you could use them yourself if you wanted. These bowls are durable and have even been dropped a few times and did not get any dents.
I suspect that these dishes will last Ninjas lifetime and well worth the price we paid for them.
Because of the quality of the product & speed of their shipping. I am giving Basis Pets 5 out of 5 stars.
Shop for Dog & Cat Bowls Here