First introduced in 1953 Peeps are synonymous with Easter. There is something nostalgic about seeing those brightly colored packages of Peeps that start to appear on store shelves in March. And while the chocolate bunny may be the King of Easter no Easter basket would be complete without at least one package of marshmallow chick or bunny Peeps included.
Peeps are the candy that a lot of people love to hate. It is hard to believe that a tiny sugar coated chick could create such controversy.
Why all the hate for this tiny marshmallow chick? Many cite the unhealthy concoction of sugar, corn syrup, gelatin, along with red #3, yellow #5, or blue #1 that give Peeps their bright sugar coated colors. Sure Peeps are not exactly considered a health food but what candy is? And interestingly enough the Peeps recipe has not changed since the first marshmallow chick rolled off the production line.
Today Peeps are available in original and other flavors such as Donut Shop Coffee, Watermelon, Hot Tamale, Party Cake, Chocolate Pudding and more.
Fun Fact: Yellow remains the best selling Peeps color.
Peeps are made in the USA with globally sourced ingredients.
Get Your Peep Fix Buy in Bulk
Everyone knows that Peeps are Best in Bulk. Get your Peep fix with these bulk sources for Peeps.
Contains 5 ten packs of Peeps in yellow, purple, pink, blue and green.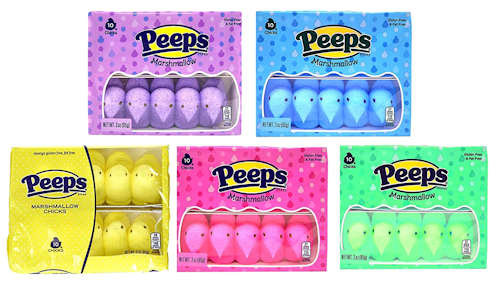 Contains 6 Flavors: Hot Tamale, Cotton Candy, Party Cake, Sour Watermelon, Fruit Punch,& Donut Shop Coffee.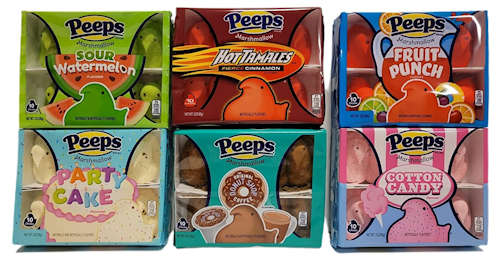 Each package contains 12 bunny Peeps. One each of purple, blue, pink and yellow.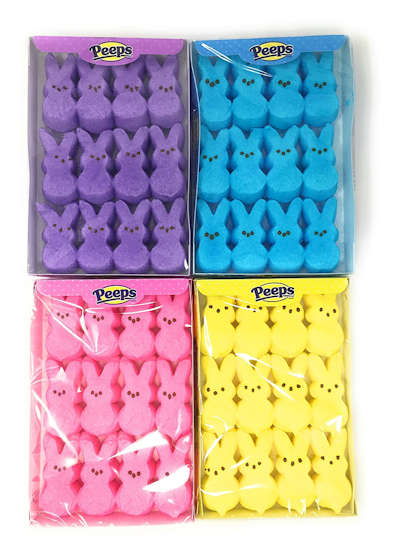 This is a 4 pack of decorated marshmallow eggs Peeps.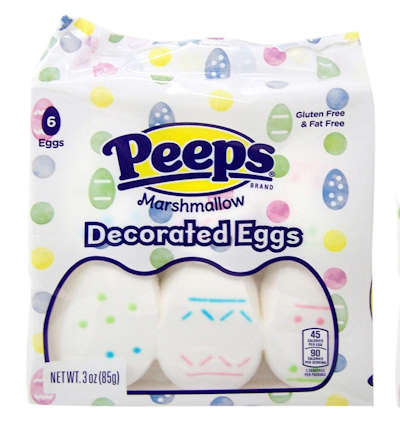 Each package contains two giant Peep marshmallow bunnies.