At the beginning of the pandemic, the events industry was one of the first to shut down. Unfortunately, it will most likely also be one of the last to resume completely normal operations.
The Events Industry Crisis in the United Kingdom
At the beginning of the pandemic, the events industry was one of the first to shut down. Unfortunately, it will most likely also be one of the last to resume completely normal operations.
One million people are employed in the events sector in the UK alone, spanning musicians and live entertainers to theaters, festivals, venues, and industry events.
In July, the UK government pledged £1.57 billion in funding to help the UK's cultural industry. Still, those involved directly in the events sector insist more needs to be done for that money to reach the majority of event workers.
"As we enter the deepest recession on record, it's vital that money is used as stimulus, not aid. It should underwrite productions that employ thousands of freelancers and bring people into cities; it must not be used to mothball the industry. The Prime Minister can save British theatre, but he must act now" –Rebecca Kane Burton, chief executive of Andrew Lloyd Webber's LW Theatres.
The Red Alert Campaign in the UK
More than 300 venues around the United Kingdom turned their lights red on Tuesday night to support the 'Red Alert' campaign. A demonstration took place on Tuesday afternoon, where out-of-work live events industry crew peacefully marched with their road cases to show their growing concern for the events industry.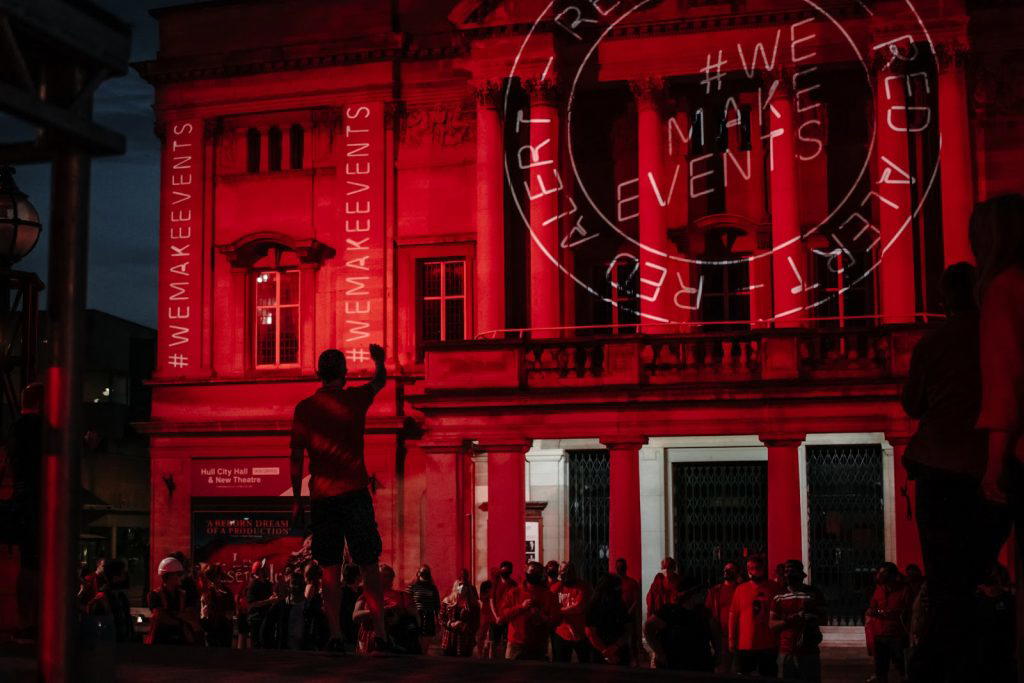 The Red Alert, or #LightItInRed Campaign highlights the 1,000,000 highly-skilled events industry professionals who have been without work for the past four months in the UK.
There is little likelihood of the events industry restarting in the United Kingdom until Spring 2021.
Venues and all of those involved in the live events industry, from lighting, graphics, sound, video, rigging, staging to catering, speakers, bands, live performers, and more all took to Twitter with the hashtags #WeMakeEvents and #LightItInRed.
The events industry includes a vast supply chain: ranging from transportation to event planning, production, audio, video, lighting, staging, logistics, and some of the world's leading technology manufacturers. Without additional support, the events industry is in danger of losing its leading position in the United Kingdom.
More importantly, all of the creatives and technicians involved in the events industry could permanently lose their livelihoods.
Unemployment is rising in the Hospitality & Events Industry
At the beginning of 2020, the leisure and hospitality sector, including the live events industry, employed nearly 17 million people. By April, the number of people working in these industries spiked to under 9 million.
The latest recorded number of those in the arts, entertainment, recreation, and live events sectors was 12 million, meaning the industry is begging to recover. Still, only time will tell what this means for those involved in the Hospitality Sector in particular.
Live Event Workers calling for federal relief in the United States
The past few months have been a challenge like no other for those involved in the hospitality industry. In particular, the events sector has seen an unprecedented number of event cancellations in the United States.
The effects of event cancellations are already causing sharp ripples towards other industries, like transportation and hospitality, which rely heavily on the events sector to support their respective sectors.
Those who aren't in the events industry may be unaware that our industry consists mainly of hundreds of thousands of small businesses and millions of workers and contractors who have already suffered financial losses from which they will never fully recover.
"For us, the end of July is this big cliff that we're about to fall off unless the government steps up and helps us financially," one person said.
Five months ago, a petition on change.org called for a COVID-19 Federal Aid Package for the Live Events Industry. Now in August, nearly half a million individuals concerned with or involved in the conventions industry have signed the petition created by Issac Rothwell.
Testimonials from American Event Companies on "Red Alert"
Since March, the $100 billion events industry has virtually shut down operations due to the coronavirus pandemic. The American events industry is now at the brink of devastation, with the number of canceled or rescheduled events reaching the thousands.
Here are a few testimonials from our customers who are frantically trying to stay in business amid the ongoing events industry shutdown. We hope spreading awareness of the dire situation facing the events industry will give these companies the best chance for positive changes.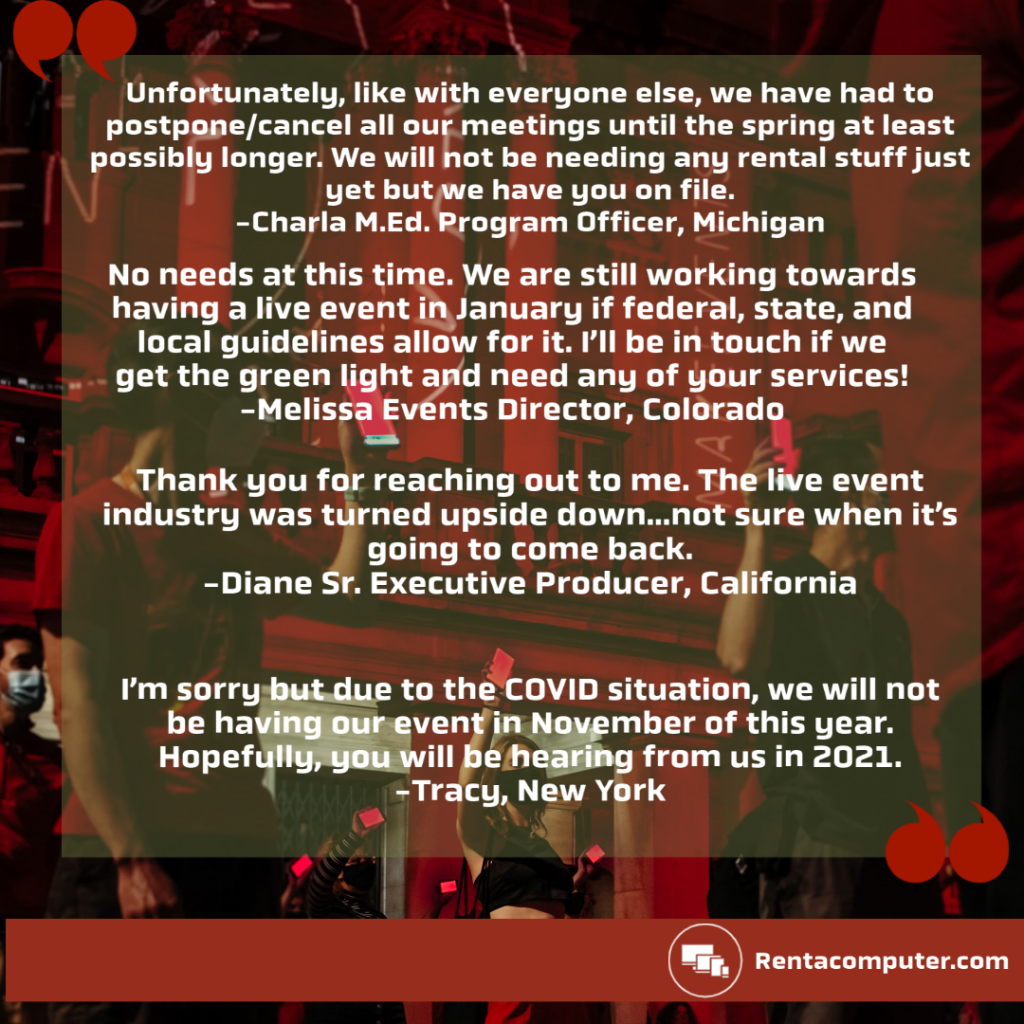 When the Events Industry returns, expect more spectacular shows, vibrant displays than ever before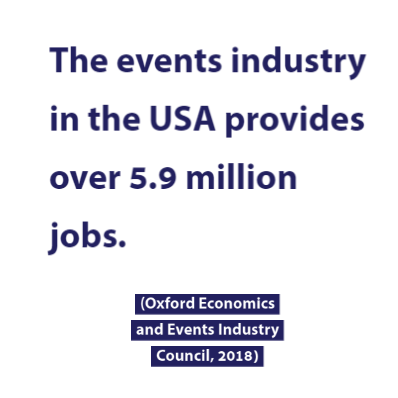 Once the dust settles from the global shutdown, the desire for everyone to engage with in-person experiences will undoubtedly be more prevalent. Though virtual meetings have seen an uptick in popularity, video conferences can never truly replace what we experience when attending a live event. By nature, humans love interacting with people and visiting different types of gatherings–and even a global pandemic can't change that.
Live events provide an unparalleled outlet for networking with potential partners and clients, discovering new ideas, and trying out new technology. Sitting at your desk or couch and watching someone else experience a concert, convention, demonstration, or class on your laptop, tablet, or desktop computer isn't an experience that can ever truly replicate the excitement and intrigue that comes with attending a live event.
Blog Resources for the Events Industry
---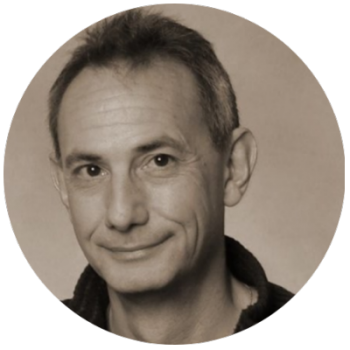 At Rentacomputer.com, we make events happen!
Are you planning an upcoming event that may have been rescheduled? You'll have peace in mind in knowing Tony Cipollone has worked with a number of companies during these difficult times. If you're interested in renting technology for your upcoming convention, trade show, business event, or any other occasion Rentacomputer.com and our Tech Travel Agents can help with anything you need–from supplying a few devices to providing technology rentals for an entire convention!
Rentacomputer.com has a large stock of equipment that is ready to deliver that includes monitors, laptops, MacBooks, desktop computers, Mac Pros, servers, tablets, smartphones, WiFi hotspots, teleconferencing equipment, and more. Not only can we deliver your rentals, but we also offer custom configuration and setup so you know everything is in working order.
Furthermore, Tony can answer any questions you have about event equipment rentals–in any capacity, for any type of event. Contact Tony today at 1-800-736-8772 ext. 241 or fill out a fast, easy online quote form. You can also connect with Tony on LinkedIn!